With Exelans Energy Heat Insulation Systems Polisan Maintains Its Leading Position in External Wall Insulation

With its 50 years of experience, Polisan Holding -Turkey's reliable brand in external wall heat insulation- developed Polisan's Exelans Energy Heat Insulation Systems by paying attention to the architectural and construction engineering of houses.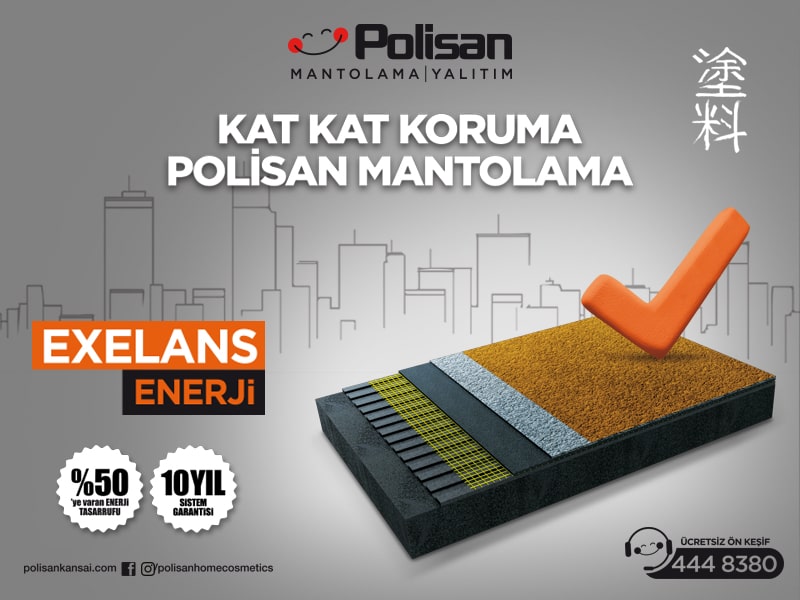 Polisan Exelans Energy Heat Insulation Laths and Package Systems produced in accordance with Polisan Kansai Boya A.Ş. production and quality control standards provide a lasting performance without losing technical values over time. Composed of high-quality performance components conforming to the standards, Polisan Exelans proved itself as a product in the field from day one. Work towards improving the system has been ongoing in parallel with the needs and developments of the market.
Choosing the right expert implementer dealer is important
Since insulation requires knowledge, experience, and attention, in addition to using high performance and quality products, it is also very important to work with an Expert Implementer Dealer. This allows you to avoid potential failures in implementing heat insulation systems from the outside. The system implemented by Exelans Energy Implementing Dealers who hold "Polisan Expert Implementer Certificates" will match the desired standards and qualify for a guarantee. Polisan Exelans Energy Decorative Coating and Polisan Exterior Paint options offer architectural detail solutions and facade alternatives in buildings, helping to achieve the perfect decorative look..
Polisan Kansai Introduces its innovative "Polisan Insulation Insurance"
In 2013, Polisan Kansai brought something new, not only to the paint and insulation sector, but also to the world insurance sector, with its introduction of "Polisan Insulation Insurance".
Although heat insulation systems pay for themselves in as short a time as around 3-5 years, they still constitute 1-3% of the building cost. But when cheap and poor performance systems are used this leads to higher costs, due to potential repair fees being almost as high as the initial cost. Hence the quality of Polisan's Paint, strengthened with an insurance opportunity, makes life easier for customers. Over time rival companies have followed in Polisan's footsteps, giving Polisan a justifiable sense of pride.
Buildings must now obtain Energy Identity Certificates
The "Energy Performance Regulation" came into effect on December 5, 2009 and began to be implemented from January 2011. Under this regulation, all buildings that obtained a construction permit on January 1, 2011, or after, must obtain an Energy Identity Certificate at the permit stage, and all buildings that were built before January 1, 2011 have until May 2017 to obtain the certificate. The requirement for buildings to obtain an "Energy Identity Certificate" was imposed by the Turkish Ministry of Public Works and Settlement in the EU harmonization process. With this requirement it is aimed that energy saving in Turkish buildings will receive the status it deserves. There is one condition to having the insurance system improved to embrace jacketing, paint, maintenance, and related works that Polisan Boya will perform in various buildings all around Turkey: using the products of Exelans Energy—the heat insulation brand of Polisan Kansai Boya—and, for labor, choosing implementer dealers authorized by Polisan Kansai Boya. Customers looking for further information can consult Polisan Kansai call center by dialing 4448380.
The insulation market consumption per person is 0.06m3 in Turkey. This figure is equal to 6% of the level in the U.S. and 10% of the level in Europe. Both professionals in construction projects and building superintendents in renovation projects prefer branded systems. Although cheaper systems without guarantees —referred to as "assembled"— were commonly used in the beginning, their number has decreased during recent years. The reason for this is that the cost of intervention on the surface, and of repairs and labor following a defect or fault on the surface of buildings due to material quality or any failure in implementation, is very close to the first investment cost. These negative experiences lead decision makers to prefer branded packages.
Polisan Kansai has been in the insulation market with Exelans Energy since 2007 and about 20,000 buildings/480,000 houses have been introduced to the Exelans Energy quality so far. Polisan Kansai has integrated its product quality with its service quality through "Insulation Insurance", which it has improved most recently.